When the heart grieves for what is lost,
the spirit rejoices over what it has left.
Sufi Proverb

Love Cards
The "Love Cards" report is a 16 - 25 page compatibility report, which compares the personalities, likes and dislikes, areas of karmic connection, and relationship possibilities of two people. It can be used by lovers, friends, business partners, family members to see areas of compatibility and dissonance. It is a great gift for couples.
Using birthdates, numerology and a regular deck of playing cards, the Love Cards report covers all aspects of a relationship. It gives reasons you have been brought together and gives you an idea of what you will need to do to make this relationship work, how you can see what your partner needs and what they will need to know to please you. Extremely accurate, this report is a must for all partners, in love, friendship, or business.
Love Cards report arrives packaged in an attractive and durable see-through folder. You will find yourself referring back to your report, time after time, to help you see your partners motives and operating techniques. It will also help you clarify you own behavior patterns. It will show the reasons for the connections and problems between you, and it will show you new ways to deal with each other and create a workable relationship.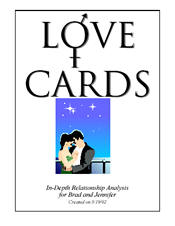 Purchase a Love Card Report for $25
( shipping included)

BACK TO TOP