'This we know: the earth does not belong to man, man belongs to the earth. All things are connected like the blood that unites us all. Man did not weave the web of life, he is merely a strand in it. Whatever he does to the web, he does to himself.'

- Chief Seattle
Head Tinglers
Happy's Head Trip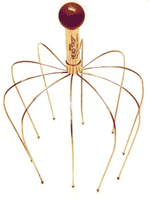 Feel energized and blissful!
Happy's Head Trip head massager transfers energy from the hand of the holder down into the blissful recipient's head through the copper of the massager, in much the same way that a light bulb receives electricity. Used slowly and rhythmically, the Happy's Head Trip also touches acupuncture points on the head and releases energy out the top of your head, sending chills up your back and calming you.
The Head Trip is great for massage therapists as a preliminary relaxation aid for clients. It is a great office tool and gift! Just use it on that employee who is flipping out, or better yet, give everyone their own, and use them on each other. Best yet, use it on someone or something (dogs, cats, etc.) that you love.
Wherever it touches, it releases. It may help headaches, and it certainly energizes and relaxes your entire body. Just take a deep breath, and enjoy!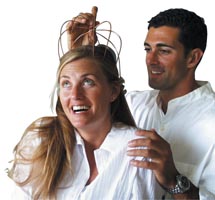 Buy a Happy's Head Trip Today!
$20, shipping included

BACK TO TOP